NeoSteamLabs
——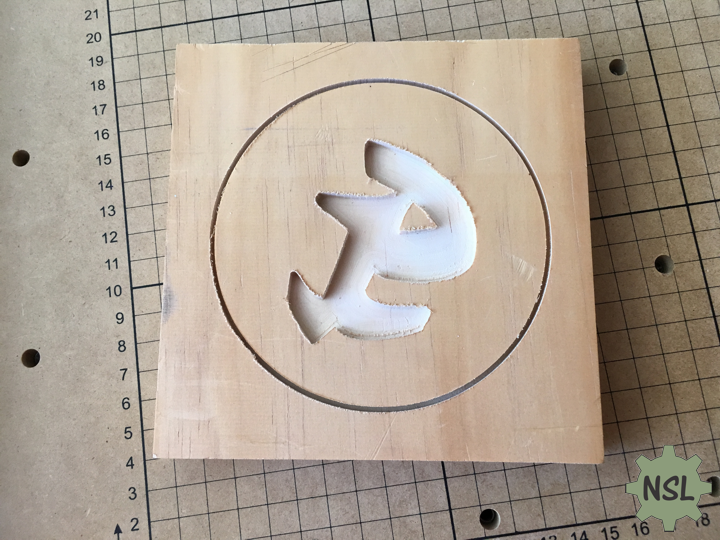 ——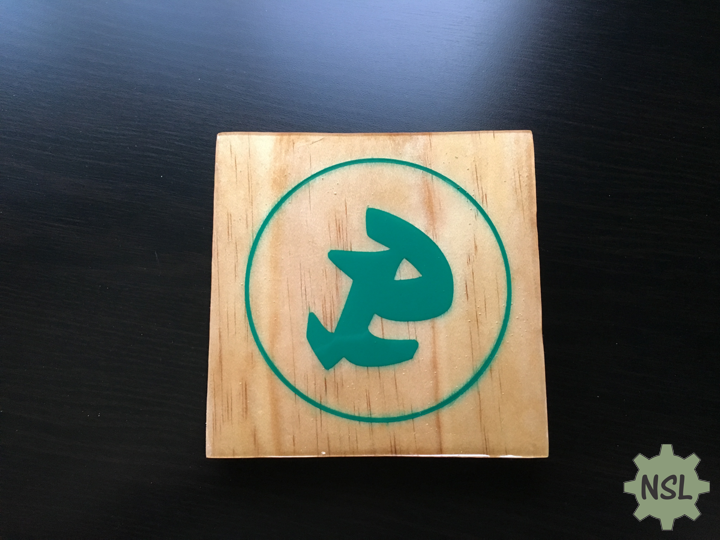 ——
Artist: Luc Paquin
Year: 2016 (August)
Art: Sculpture
Length: 5.5″ – 140 mm
Width: 5.5″ – 140 mm
Height: 0.75″ – 20 mm
Media: Wood Pine, Epoxy and Tung Oil
Tools: X-Carve
Software: VCarve Pro, Corel PHOTO-PAINT, CorelDRAW
Camera: iPhone 5
Video: Canon VIXIA HF R700
Video Editing: Pinnacle Studio 20
JLP Consultants
IT & Technology Projects and Consulting
If you have a great idea that requires design and development, our specialty is in researching the possible ways of implementing it, selecting the top potential solutions and then bringing your idea to the prototype stage. We can also help you in bringing your final prototype to production. We focus on delivering to our clients fully integrated solutions to real-world needs.
We are skilled in developing cutting-edge technological solutions including electronic hardware design, hardware and software integration, desktop, web, mobile software solutions, microcontrollers, wireless networking integration, telecommunications integration, GPS and navigation systems, RFID Systems, inertial motion capture systems, video capture and processing systems, security systems, multimedia systems, unmanned vehicles (terrestrial, marine and UAVs), 3D animation, kiosk software and hardware solutions.
Technology Experience
Research & Development (R & D)
Robotics Consulting
Microcontrollers Consulting
Desktop Applications (Windows, OSX, Linux, Multi-OS, Multi-Tier)
Mobile Applications (Android, iOS, Blackberry, Windows Mobile, Windows CE)
Web Applications (LAMP, Scripting, Java, ASP, ASP.NET, RoR, Wakanda, etc.)
Social Media Programming & Integration (Facebook, Twitter, YouTube, Pinterest, etc.)
Content Management Systems (WordPress, Drupal, Joomla, Moodle, etc.)
Bulletin Boards (phpBB, SMF, Vanilla, jobberBase, etc.)
eCommerce (WooCommerce, OSCommerce, ZenCart, PayPal Shopping Cart, etc.)
Instructor
DOS, Windows, OSX, Linux, Multi-OS
Linux-Apache-PHP-MySQL
Arduino
Raspberry Pi
Espressif
Follow Us
J. Luc Paquin – Curriculum Vitae
http://www.donluc.com/DLHackster/LucPaquinCVEngMk2020a.pdf
Web: https://neosteamlabs.com/
Web: http://www.donluc.com/
Web: http://www.jlpconsultants.com/
Web: http://www.donluc.com/DLHackster/
Web: https://www.hackster.io/neosteam-labs
YouTube: https://www.youtube.com/channel/UC5eRjrGn1CqkkGfZy0jxEdA
Facebook: https://www.facebook.com/neosteam.labs.9/
Instagram: https://www.instagram.com/neosteamlabs/
Pinterest: https://www.pinterest.com/NeoSteamLabs/
Twitter: https://twitter.com/labs_steam
Etsy: https://www.etsy.com/shop/NeoSteamLabs
Luc & Norma
——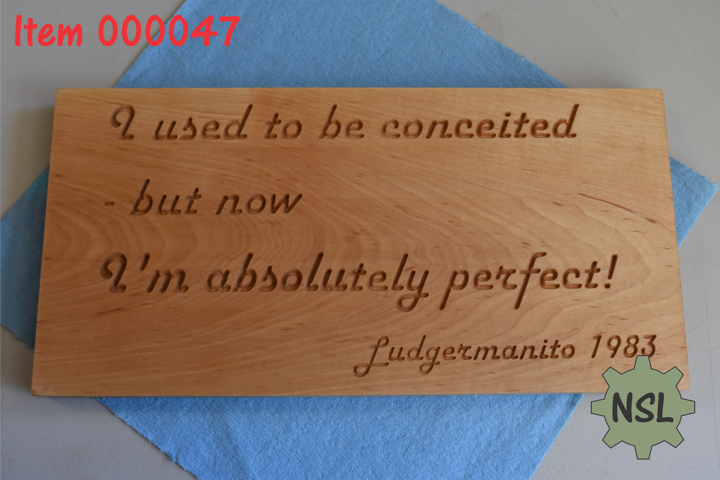 ——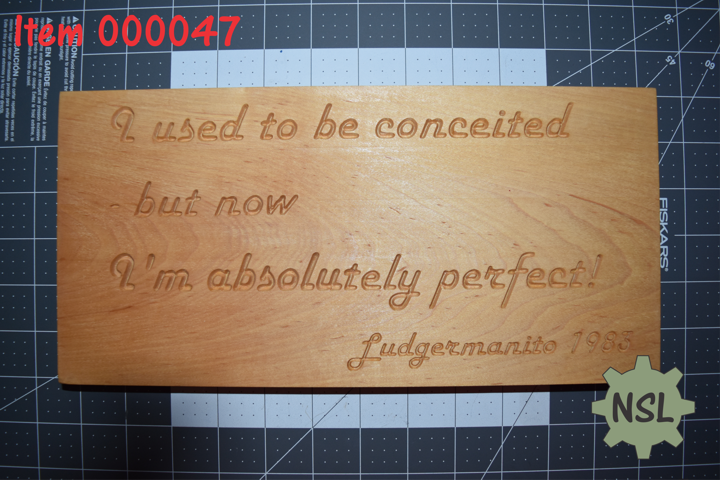 ——
——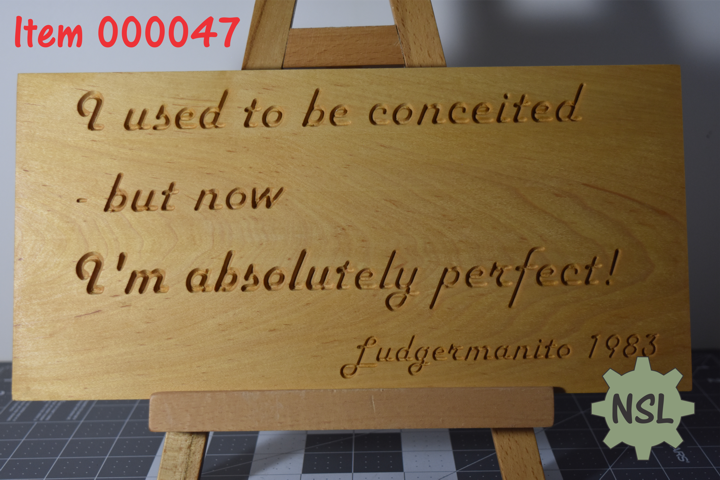 ——
Artist: Luc Paquin
Year: 2017 (May)
Art: Sculpture
Length: 12″ – 300 mm
Width: 5.5″ – 140 mm
Height: 0.75″ – 20 mm
Media: Wood Maple and Tung Oil
Tools: Shapeoko 3
Software: VCarve Pro, Corel PHOTO-PAINT, CorelDRAW
Camera: Nikon D7200
Video: Canon VIXIA HF R700
Video Editing: Pinnacle Studio 20
Etsy: https://www.etsy.com/listing/716578288/im-absolutely-perfect-item-000047
I used to be conceited
– but now
I'm absolutely perfect!
I'm absolutely perfect! – Item #000047
A piece of Wood Maple custom unique handmade. The perfect statement will add flare to any look with unique handcrafted designer.
100% Wood Maple Unique Handmade.
Ready to ship within 1-2 week.
Follow Us
Web: https://neosteamlabs.com/
Web: http://www.donluc.com/
Web: http://www.jlpconsultants.com/
YouTube: https://www.youtube.com/channel/UC5eRjrGn1CqkkGfZy0jxEdA
Facebook: https://www.facebook.com/neosteam.labs.9/
Instagram: https://www.instagram.com/neosteamlabs/
Pinterest: https://www.pinterest.com/NeoSteamLabs/
Twitter: https://twitter.com/labs_steam
Etsy: https://www.etsy.com/shop/NeoSteamLabs
Luc & Norma